Things are looking up a bit after a fun series against the Angels. The offense has started to produce led by Josh Willingham's MLB leading 4th homer, a monster shot from Justin Morneau and a (gasp!) Joe Mauer three-run dinger (while catching the day game after a night game no less). Jamey Carroll finally got his first few hits as a Twin and Denard Span put up the twelfth four-hit game of his career.
Unfortunately, though they stuck with what should be a very good Angels team, things don't get any easier for the Twins. They're about to face the Texas Rangers, a team twice as beautiful and thrice as deadly.
The Rangers put up 855 runs last season, a massive total that finished behind just the Red Sox and Yankees, and the offense looks to be similarly good this season. Ian Kinsler and Josh Hamilton are off to hot starts, but there's really nobody in this lineup that isn't a threat. Michael Young (while perennially overrated) is almost a lock to be a .300 hitter, Elvis Andrus has blinding speed and is constantly improving and there's maybe five guys in the league with more power than Nelson Cruz and Mike Napoli.
The rotation is a bit of a question mark, though it possesses undeniable upside. Colby Lewis and Derek Holland are good, dependable starters but they won't face the Twins. Matt Harrison faces questions about whether or not he can repeat his stellar 2011 campaign, while Japanese import Yu Darvish and converted closer Neftali Feliz are adjusting to new roles. While all prognosticators agree that Darvish will be a stud, it could take awhile for him to adjust. He struggled mightily early in his first start against the Mariners before calming himself in the later innings. Feliz was tough as a closer but durability and command are going to be the questions for him as a starter.
Game One Friday at 7:10 PM CST:
Anthony Swarzak (5.0 IP, 4 H, 1 ER, 2 BB, 1 K) v. Matt Harrison (6.0 IP, 4 H, 2 BB, 3 K)
-Swarzak pitched quite well in his emergency start on Sunday, something he's had to do numerous times. I worry about his fly ball profile against this lineup.
-Harrison broke out last year, posting a  3.39 ERA and 3.53 FIP in 185 innings, after posting only a 5.39 ERA and 5.13 FIP in 225 career innings before that. His strikeouts went way up last year (5.29 K/9 in 2010 to 6.11 in 2011) but he's still well below the league average. He gets grounders, but not a ton. His 7.1 percent HR/FB ratio was the twelfth lowest in baseball, a pretty ridiculous number considering the fact that he pitches in Texas. I'd expect that to go up this season. I think he benefited from pitching in front of what is probably the best defensive (and overall) 4-5-6 in baseball.
Game Two, Saturday at 12:10 PM CST:
Nick Blackburn (6 IP, 5 H, 5 ER, 2 BB, 3 K) v. Yu Darvish (5.2 IP, 8 H, 5 ER, 4 BB, 5 K)
-Blackburn pitched better than the above numbers would show in his 2010 debut, getting shafted by a rough defense. His two-seamer helped induce a 2:1 groundball to flyball ratio and he put up a 7.1 swinging strike percentage, still below league average, but far better than the 4.1 percent and 4.8 percent he logged in 2010 and 2011 respectively.
-Darvish, as mentioned, struggled early in his debut but settled down later on, not giving up a run after the second inning. I expect he'll improve as he settles in and begins to understand the strike zone over here a bit better. He should be a lot of fun to watch.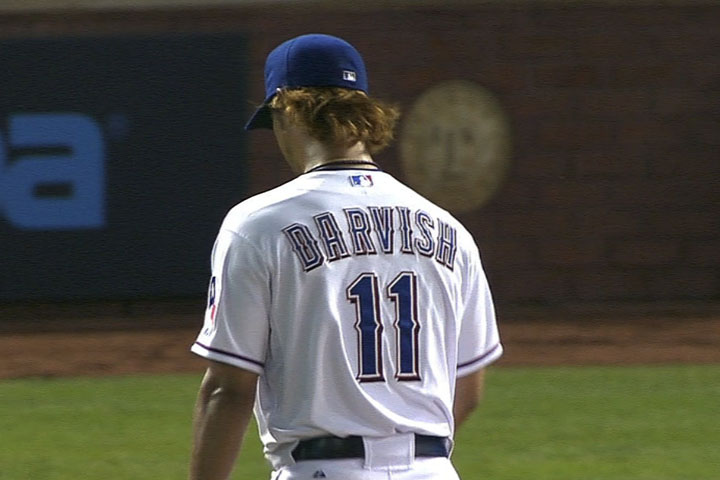 Game Three, Sunday at 1:10 PM CST:
Liam Hendriks (3.36 ERA, 5.29 K/BB at AA/AAA) v. Neftali Feliz (7 IP, 4 H, 0 ER, 2 BB, 4 K)
-Hendriks was scratched from his first scheduled start last Sunday due to food poisoning. He looks like he'll be a rotation mainstay as Scott Baker is headed for elbow surgery.
-Feliz averaged about 96 MPH with his fastball last season per Pitch/FX but is down to about 94 MPH this season as a starter. He also throws a low-80's slider and a mid-80's change. He was very, very good in his first start.
Notes:
-Friday's game will be the first that I attend this season. I'm a lot more excited for it than I was a couple of days ago.
-Mike Napoli is one for his first thirteen after hitting for MLB's best wOBA (.444) last season.
-Ian Kinsler broke a three-game homer streak today, though he still hit 3-4 with a double. The man just got paid a whole lot of money after ranking as one of MLB's best players over the past three seasons.
-I had more fun watching the Twins game today than I remember having during any single game last year. What should be an above-average offense finally broke out.
Your song for today is "Village Green Preservation Society"  the opening track off of the album of the same name. The Kinks remain one of the most under-appreciated bands of the 60s.